DRTY LVRS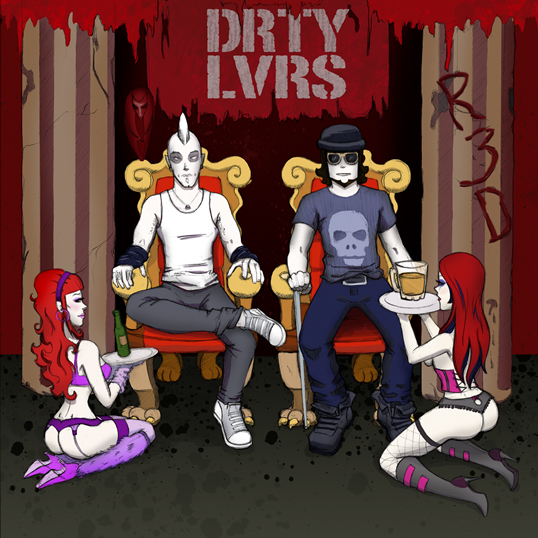 Sometimes fate intervenes in the strangest of ways. Such was the case for magical musicians Batt and Chason. Not long ago, in an Amsterdam cafe named Gollem, these two most unlikely of characters were sitting elbow to elbow deep in discussion over the state of their fair city's music scene, when their lives changed forever.
It was nearly closing time and the place was all but deserted when Batt noticed a throbbing red glow coming from underneath a door behind the bar. All at once, the door flew open, and what must have been the hottest seductress in all of the red light district, stole their gaze and headed toward them.
"You will be stars…" she whispered as if in a trance. From a satchel on her hip, she pulled out what initially looked like a small black dog, but turned out to be a bat.
Appropriately handing it to Batt, she said "I am La Luna, and this is Star. He will watch over you both – keep you safe."
"Safe from what?" countered Chason skeptically.
Handing Chason a black marble-topped cane pulled from her hip bag, La Luna replied "From those that might drain you. From those that might stand in the way of your true purpose. You are the bringers of new sound. You will be the future of music, light, movement, and darkness."
"And I assume you have a name for this new 'us'?" questioned Batt.
"But of course" La Luna replied. "You were born children of Amsterdam to forever be the DRTY LVRS. You will bring your sound and vision to America, and then the WORLD. You both have been chosen to spread a groove so dirty that people will have no choice but to release themselves to it. Follow the path laid out for you and all will be yours…"
Batt and Chason arrived in Fort Lauderdale, Florida on January 1 of 2011. Months of rehearsing and writing has resulted in the 11.11.11 release of their debut single R3D, an homage to the pulsing light on that fateful night.
Website: www.drtylvrs.com
Recent Press
re: DRTY LVRS headline performance at BOOMCON, Costa Rica, Jan 21-22, 2012
"Performing live at Boom Con will be DRTY LVRS, a musical duo from South Florida that plays in as style self-described as 'dark-electronic'. DRTY LVRS' hit R3D is currently enjoying a fair amount of airplay on local radio station 104.7 Hit. The duo's music has been adopted by the fetish and Cosplay communities, and thus will be a suitable soundtrack for Tico Cosplayers in attendance at Boom Con. Cosplay involves dressing up as comic book and video game characters, a hobbie that many Ticos are warming up to, and which invariably calls for revealing sexy attire."
Jamie Lopez, Costa Rica Star
Full Article:
http://news.co.cr/business/boom-con-2012-comics-video-games-computer-animation/07/01/2012/